Summary:
Wanted: Lizzie Vaughan, Dead or Alive. Relationships are always hard, but for a broke cowboy and a newly turned Vampire, true love may be lethal. After barely surviving an undead apocalypse in The Cowboy and the Vampire, Tucker and Lizzie hightail it back to quirky LonePine, Wyoming (population 438), to start a family. But she's got a growing thirst for blood and he's realizing that mortality ain't all it's cracked up to be when your girlfriend may live forever. With a scheming Vampire nation hot on their boot heels and a price on her head, how far will Lizzie and Tucker go to protect their unlikely love? Blending evolution, religion and an overly sensitive cow dog named Rex, Blood and Whiskey drags the Vampire myth into the modern west, delivering double-barreled action, heart-pounding passion and wicked humor.
Summary & Photo provided by
Pump Up Your Book
Length: 362 pages (Paperback)
Source: Review Copy
Publication Date: May 1st 2012 by Pumpjackpres
Genre:

Mystery/Fiction/Paranormal
T
his was just one of those books that had me hooked from the first page! As a person who hasn't read the first book in this series I was really surprised at how much I enjoyed this one. I mean I knew as soon as I read the summary I would like it but I didn't expect the book to have me laughing out loud so often and I mean real laughter not the bemused chuckle you have when you see something cute.
I found the writing to be great there was so much going on in the story at all times I have no idea how the authors managed to write a book together. I can't imagine the effort it took to keep the story straight. However, the fact that there was so much going on was great. I loved the fact that I had no idea what was going to happen next with Lizzie, Tucker and of course the beloved dog Rex (I thought Rex was a hoot!).
The way the characters were written out was great, I really enjoyed Lizzie and Tucker as well as the rest of the cast of characters that showed up in the novel because I thought they each brought something new to the table that was often completely unexpected.
Like the summary promises this book does indeed bring a lot to the table. Theres an edge of your seat quality about the book that I really liked. Since the book was so different from other vampire novels I've read out there I can only hope that there will be more than just 2 books in the series because the thrills in this read got me hooked! All I have to do now is ensure that I read the first book and then re-read this one because even though I found the novel easy to follow I still want to know how everything started.
I would recommend this novel to anyone who has read the first book as well as those who haven't (though I suggest you read the first before this one). It was funny, action packed and intriguing. I think this one will appeal more to the paranormal lovers than the mystery lovers unless they like their mystery's with a paranormal edge to it.
ABOUT THE AUTHORS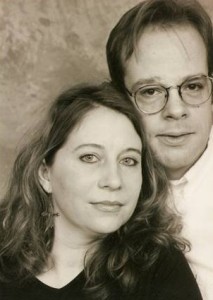 Clark Ha
ys
grew up in Montana in the shadow of the Tobacco Root Mountains. In addition to his fiction work, he is a cowboy, a published poet and occasional food critic. Recently, he was nominated for Pushcart Prize for short fiction and not so recently for a Rhysling award for poetry. Clark brings a deep knowledge about the modern west, weaponry, country music and existentialism to his writing.
Kathleen McFall
grew up in the heart of Washington, D.C. She worked as a petroleum geologist and, later, as a journalist, and has published hundreds of articles about scientific research, energy and natural resources. An interest in the overlap of science and mysticism are an essential aspect of her fiction writing. She received an Oregon Literary Arts Fellowship for fiction.
*I received a free copy in exchange for my free and honest review. I was not compensated in any way and all thoughts and opinions expressed therein are my own.
To purchase the book via Barnes & Noble
CLICK HERE
Really Liked it!
★ ★ ★ ★