Waiting on Wednesday

is a weekly meme hosted by Jill at
Breaking The Spine
and is where we can talk about books we are looking forward to being released.
Summary:
Mysterious. Magnificent. Creepy. Welcome to Rockford Manor.

"There's something hidden in the Maze." Seventeen-year-old Imogen has never forgotten the last words her father said to her seven years ago, before the blazing fire that consumed him, her mother, and the gardens of her family's English country manor.

Haunted by her parents' deaths, Imogen moves to New York City with her new guardians. But when a letter arrives with the news of her cousin's untimely death, revealing that Imogen is now the only heir left to run the estate, she returns to England and warily accepts her role as duchess.

All is not as it seems at Rockford, and Imogen quickly learns that dark secrets lurk behind the mansion's aristocratic exterior, hinting that the spate of deaths in her family were no accident. And at the center of the mystery is Imogen herself--and Sebastian, the childhood friend she has secretly loved for years. Just what has Imogen walked into?

Combining a fresh twist on the classic REBECCA with a spine-tingling mystery and powerful romance, SUSPICION is an action-packed thrill ride.
Length: 368 pages (Hardcover)
Expected Publication Date: December 9th 2014 by Delacorte Press
Why I'm Waiting:
I've been a fan of Monir's since I first read her Timeless series a couple years back and am so excited to see her releasing a new novel.
And that cover? I loves it.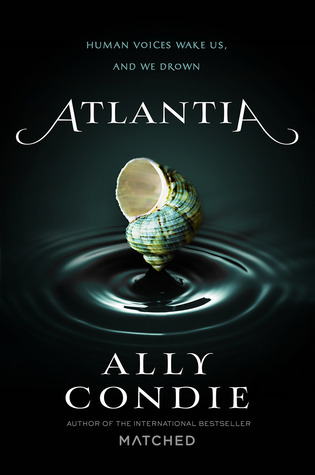 Summary:
Can you hear Atlantia breathing?

For as long as she can remember, Rio has dreamt of the sand and sky Above—of life beyond her underwater city of Atlantia. But in a single moment, all her plans for the future are thwarted when her twin sister, Bay, makes an unexpected decision, stranding Rio Below. Alone, ripped away from the last person who knew Rio's true self—and the powerful siren voice she has long hidden—she has nothing left to lose.

Guided by a dangerous and unlikely mentor, Rio formulates a plan that leads to increasingly treacherous questions about her mother's death, her own destiny, and the complex system constructed to govern the divide between land and sea. Her life and her city depend on Rio to listen to the voices of the past and to speak long-hidden truths.
Length: 368 pages (Hardcover)
Expected Publication Date: October 28th 2014 by Dutton Juvenile
Why I'm Waiting:
The cover is so gorgeous that as soon as I saw it I knew I had to read it, especially since it's a take on Atlantis.