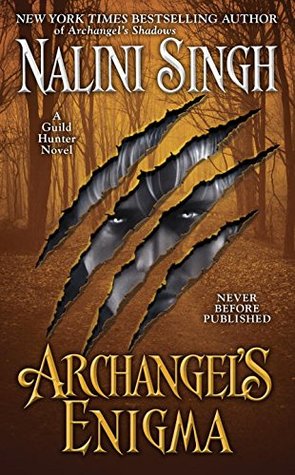 Summary:
Naasir is the most feral of the powerful group of vampires and angels known as the Seven, his loyalty pledged to the Archangel Raphael. When rumors surface of a plot to murder the former Archangel of Persia, now lost in the Sleep of the Ancients, Naasir is dispatched to find him. For only he possesses the tracking skills required—those more common to predatory animals than to man.

Enlisted to accompany Naasir, Andromeda, a young angelic scholar with dangerous secrets, is fascinated by his nature—at once playful and brilliant, sensual and brutal. As they race to find the Sleeping archangel before it's too late, Naasir will force her to question all she knows...and tempt her to walk into the magnificent, feral darkness of his world. But first they must survive an enemy vicious enough to shatter the greatest taboo of the angelic race and plunge the world into a screaming nightmare…
Length:

357 pages (Mass Market Paperback)
Source: Toronto Public Library
Available Formats: Print/E-book/Audio
Publication Date:

Published September 1st 2015 by Berkley Sensation
Have I ever told you guys that I love this series? I have? Well too bad I'm going to tell you people again. I LOVE THIS SERIES! Nalini Singh has done it again, in this her 8th book in the gritty angelic urban fantasy series, proving once again she can world build up there with the best of them with her own unique and amazing writing style.
I was so excited to finally get my hands on a copy of this book, and by the time I got it I was getting a little frustrated because it took my library 3 months to get it in and I was going nuts with having to wait for it I mean c'mon this was Nasir's book. WE'VE BEEN DYING FOR THIS! I mean for me Nasir has indeed been an Enigma since he was introduced to us ages ago and of course Nalini Singh played her cards close to her chest and didn't reveal more than she needed to about him until she gave us this fantastic well crafted urban fantasy with just enough of a touch of her signature style of romance writing to put forth an over all well rounded story.
What I loved most about this read, and in fact all the others in this series is that they are more than that paranormal romance title that appears at the top of the spine on the covers. Yes there is romance and Andromeda was a fantastic match for Nasir. Soft but unwilling to bend and uncompromising in her devotion to the things and the people she respects and protects. I say protects because she is far more than an archivist, shes a warrior too but one who keeps it hidden, better to protect what she loves. She gives as well as she gets and despite Nasir's more uncivilized side she's the only one to tame him without caging him. I thought as a couple they were fantastic and I'm glad that Singh brought a new character into the mix for Nasir's story further complicating and enlarging the universe of angels, archangels, vampires and other things that she's been working on.
While there is a strong romance aspect to this series we don't veer off course and lose all that she has built. The war with freaky not dead but should be dead already archangel Lijuan might not be raging at full tilt but the armaments are being readied and things are moving forward. Not too quickly to feel rushed enough for this to be a book containing a considerable key piece of plot that will drastically impact the next book in the series as some very interesting things happened in this that present some very interesting questions.
As like the rest of the books in this series I finished this in no time, the characters were well developed and although this was the story of Nasir and Andromeda it was clear that this is not the last we will see of them. That's another of the reasons why I enjoy this series so much. Just because some characters may get their own books, the covers are not shut on them and they continue to appear in the series, which was why I was glad yet again to see Raphael, Elena, Jason, Ash, Janvier, Aodhan, and of course who could forget dear Bluebell? Characters are never left out and treated as props judging by the events in this book I would not be surprised to see just how integral Nasir and Andromeda will become in the next books.
Times they are a changing and there was a lot of action and adventure in Archangel's Enigma. Questions were answered but more were posed and now I'm left wanting more as always knowing I have months to wait for the next installment of this dramatic series but I know that the wait will be well worth it because these are so well contrived I'm like an addict and couldn't not read them even if you paid me.
So all in all, reader, if you have yet to pick up this fabulous series yet I highly recommend it if you want an urban fantasy with romance. murder, intrigue and archangels befriending vampires. The world building is fantastic and Nasir's story was all that I hoped it would be and more which to me is just what you want in a book that has been highly anticipated. If an author can still managed to make it better than a reader hopes...doesn't that tell you you'd better hope on that train?
Loved It!
★★★★★
To become a "Fan" of Nalini on Goodreads
CLICK HERE
To purchase the book via Chapters Indigo
CLICK HERE
To purchase the book via Amazon
CLICK HERE
To purchase the book via The Book Depository
CLICK HERE
To purchase the book via Barnes & Noble
CLICK HERE