Library Loot is a weekly event co-hosted by Claire from
The Captive Reader
and Linda from
Silly Little Mischief
that encourages bloggers to share the books they've checked out from the library. If you'd like to participate, just write up your post-feel free to steal the button-and link it using the Mr. Linky any time during the week. And of course chec
k out what other participants are getting from their libraries.
Super Food Family Classics is the healthy-eating companion book to the hugely popular new series of Jamie's Super Food, currently on Channel 4.
In this week's episode Jamie serves up a delicious and nutritious feast for all the family: from
strawberry buckwheat pancakes
for breakfast to
jumbo fish fingers
for lunch and
squash and sausage risotto
for dinner - there really is something for everyone.
Freshen up your family favourites and expand your recipe repertoire to make your weekly menu something to shout about.
Sneak in extra veg with Squash Mac 'N' Cheese and enjoy a no-arguments family dinner with Chicken Fajitas, Smoky Dressed Aubergines & Peppers. When you need a no-fuss meal on the table fast try Chicken Goujons or Pasta Pesto, or get ahead with freezer-friendly Jumbo Fish Fingers or Proper Chicken Nuggets. Use ingredients you know the family already love in new, exciting ways, with Sweet Potato Fish Cakes or Chocolate Porridge.
Every recipe is tried and tested, has clear and easy-to-understand nutritional information on the page, including the number of veg and fruit portions in each dish, plus there's a bumper back-section packed with valuable advice on everything from cooking with kids and tackling fussy eaters, to good gut health, the importance of fibre, budgeting and of course, getting more of the good stuff into your family's diet.
If you're looking for fresh ideas and an easy way to make healthy eating a part of everyday family life,
Jamie's Super Food Family Classics
is the book for you.
Summary & Cover taken from
Goodreads.com
Length:
288 pages (Hardcover)
Genre:
Cookbook
Publication Date:
July 14th 2016 by Michael Joseph
***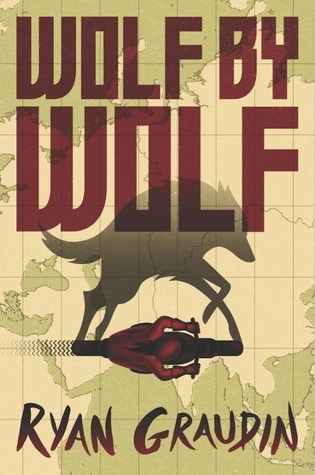 Her story begins on a train.
The year is 1956, and the Axis powers of the Third Reich and Imperial Japan rule. To commemorate their Great Victory, Hitler and Emperor Hirohito host the Axis Tour: an annual motorcycle race across their conjoined continents. The victor is awarded an audience with the highly reclusive Adolf Hitler at the Victor's Ball in Tokyo.
Yael, a former death camp prisoner, has witnessed too much suffering, and the five wolves tattooed on her arm are a constant reminder of the loved ones she lost. The resistance has given Yael one goal: Win the race and kill Hitler. A survivor of painful human experimentation, Yael has the power to skinshift and must complete her mission by impersonating last year's only female racer, Adele Wolfe. This deception becomes more difficult when Felix, Adele twin's brother, and Luka, her former love interest, enter the race and watch Yael's every move.
But as Yael grows closer to the other competitors, can she bring herself to be as ruthless as she needs to be to avoid discovery and complete her mission?
From the author of The Walled City comes a fast-paced and innovative novel that will leave you breathless.
Summary & Cover taken from
Goodreads.com
Length:
400 pages (Hardcover)
Genre:
Young Adult
Publication Date:
October 20th 2015 by Little, Brown Books for Young Readers
***
In Sister to Courage, Wanda takes us inside the world she shared with Viola and ten other brothers and sisters. Through touching and often hilarious stories, she traces the roots of courage and ambition, god fun and dignity, of the household that produced Viola Desmond.
Tough and compassionate, Viola shines through beyond the moment she was carried out of Roseland movie theatre for refusing to sit I the blacks-only section. Viola emerges as a defender of family and a successful entrepreneur whose momentum was blocked by racism.
With honesty and wit, Wanda Robson Tells her own brave story, giving new life to two remarkable women and the family the loved.
Length:
174 pages (Hardcover)
Genre:
Non-fiction/Biography
Publication Date:
January 1st 2010 by Breton Books
Everybody loves a Christmas story. The tradition of the Twelve Days of Christmas is a tradition of celebration, sharing and giving. And what better way to do that than with a story?
Read these stories by the fire, in the snow, travelling home for the holidays. Give them to friends, wrap them up for someone you love, read them aloud, read them alone, read them together. Enjoy the season of peace and goodwill, mystery, and a little bit of magic.
There are ghosts here and jovial spirits. Chances at love and tricks with time.
There is frost and icicles, mistletoe and sledges. There's a cat and a dog and a solid silver frog. There's a Christmas cracker with a surprising gift inside.
There's a haunted house and a SnowMama. There are Yuletides and holly wreaths. Three Kings. And a merry little Christmas time.
And for the icing on the Christmas cake, there are twelve festive recipes from Yuletides past and present. Red cabbage, gravlax, turkey biryani, sherry trifle, Mrs Winterson's mince pies and more.
Length:
304 pages (Hardcover)
Publication Date:
November 10th 2016 by Jonathan Cape
What's your library loot?