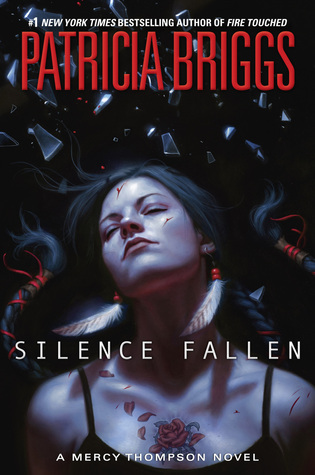 In the #1 New York Times bestselling Mercy Thompson novels, the coyote shapeshifter has found her voice in the werewolf pack. But when Mercy's bond with the pack and her mate is broken, she'll learn what it truly means to be alone...

Attacked and abducted in her home territory, Mercy finds herself in the clutches of the most powerful vampire in the world, taken as a weapon to use against alpha werewolf Adam and the ruler of the Tri-Cities vampires. In coyote form, Mercy escapes only to find herself without money, without clothing, and alone in the heart of Europe...

Unable to contact Adam and the rest of the pack, Mercy has allies to find and enemies to fight, and she needs to figure out which is which. Ancient powers stir, and Mercy must be her agile best to avoid causing a war between vampires and werewolves, and between werewolves and werewolves. And in the heart of the ancient city of Prague, old ghosts rise...
Length:

371 pages (Hardcover)
Source: Toronto Public Library
Available Formats: Print/E-book/Audiobook
Genre:
Paranormal Fantasy
Mercy, Mercy, Mercy. Is there no end to the kerfuffles that our favourite coyote shifter gets herself into? With Patricia Briggs behind the wheel I find that doubtful. I finally got around to reading this one a few weeks ago, and it popped up as available from my library at just the right time for me.
I had so much fun reading Silence Fallen, being back at Mercy's side was a real treat and I have to say she was in fine form in this installment of her whacky adventure filled, accident prone life. It was filled with the usual hilarity and light hearted moments that I love about this series but we also learned a lot about Mercy and her abilities as a shifter in this one as well which lead to a very balanced read.
Can I just say that it was great to see Mercy on her own though? With Adam stuck in the USA due to werewolf politics in Europe, we were able to get a bit of the old Mercy back. Not that new Mercy is bad, she's not. She's just as great with Adam as without him by her side but I really do miss when Mercy was on her own left to her own ingenious, reckless wits to depend on for survival.
True to form, Mercy did use all her wits to survive kidnapping, rogue vamps, werewolves with centuries long grudges and older forms of magic than they have back stateside. We learned more about not only the vampire politics but how things in both the human and supernatural worlds are changing. There's tension and a good amount of political scheming from everyone and it really calls into question where are humans going to fit into the world in the long term?
I enjoyed how this installment was written in different timelines and view points. Sometimes it would be Adam, others Mercy. We might start off in the current time but the next time might be 4 days in the future or 8 hours in the past. It took a bit to get used to but I found it to be a very effective technique in keeping me interested. It was very fast paced and I loved the details that were given about the surroundings and it was also nice that some side characters made some appearances that surprised me as well.
Overall, this was just another perfect installment in one of my favourite series. I look forward to a new book being published every year. I love that it was full of Doctor Who references, lots of laughter and a fair bit of snarkiness. I can't wait for book 11. If you haven't read this series or this book in the series than I hope you do soon. It's not one that's to be missed and I'm sorry I put off reading this one so long.