Eat Up: Food, Appetite and Eating What You Want
by: Ruby Tandoh
Think about that first tickle of hunger in your stomach. A moment ago, you could have been thinking about anything, but now it's thickly buttered marmite toast, a frosty scoop of ice cream straight from the tub, some creamy, cheesy scrambled eggs or a fuzzy, perfectly-ripe peach.
Eating is one of life's greatest pleasures. Food nourishes our bodies, helps us celebrate our successes (from a wedding cake to a post-night out kebab), cheers us up when we're down, introduces us to new cultures and - when we cook and eat together - connects us with the people we love.
In Eat Up, Ruby Tandoh celebrates the fun and pleasure of food, taking a look at everything from gluttons and gourmets in the movies, to the symbolism of food and sex. She will arm you against the fad diets, food crazes and bad science that can make eating guilt-laden and expensive, drawing eating inspiration from influences as diverse as Roald Dahl, Nora Ephron and Gemma from TOWIE. Filled with straight-talking, sympathetic advice on everything from mental health to recipe ideas and shopping tips, this is a book that clears away the fog, to help you fall back in love with food.
While I didn't particularly like Ruby on her season of The Great British Bakeoff, I do love her love of food, and she is very creative so I feel like I have nothing to lose in giving this a try.
Publication Date:
The Hazel Wood (The Hazel Wood #1)
by: Melissa Albert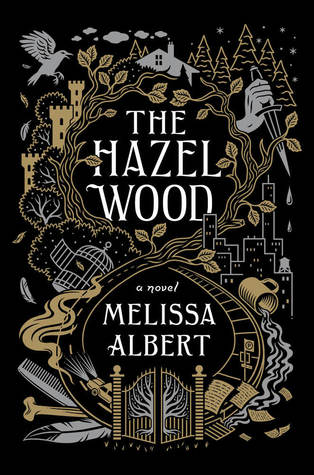 Seventeen-year-old Alice and her mother have spent most of Alice's life on the road, always a step ahead of the uncanny bad luck biting at their heels. But when Alice's grandmother, the reclusive author of a cult-classic book of pitch-dark fairy tales, dies alone on her estate, the Hazel Wood, Alice learns how bad her luck can really get: her mother is stolen away―by a figure who claims to come from the Hinterland, the cruel supernatural world where her grandmother's stories are set. Alice's only lead is the message her mother left behind: "Stay away from the Hazel Wood."
Alice has long steered clear of her grandmother's cultish fans. But now she has no choice but to ally with classmate Ellery Finch, a Hinterland superfan who may have his own reasons for wanting to help her. To retrieve her mother, Alice must venture first to the Hazel Wood, then into the world where her grandmother's tales began―and where she might find out how her own story went so wrong.
Why:
The cover of The Hazel Wood is what got me interested in reading it, but the synopsis make it sound like this one is going to be a bit of a mind binding, angsty read and I can't wait to get my grubby hands on it.
Publication Date:
January 30th 2018
What are you waiting on?