Waiting on Wednesday

is a weekly meme hosted by Jill at
Breaking The Spine
and is where we can talk about books we are looking forward to being released.
Summary:
A thrilling new Victorian-era urban fantasy for fans of Kevin Hearne's Iron Druid Chronicles, the Showtime series Penny Dreadful, and the Sherlock Holmes movies featuring Robert Downey, Jr.

They are the realm's last, best defense against supernatural evil. But they're going to need a lot more silver.

As fog descends, obscuring the gas lamps of Victorian London, werewolves prowl the shadows of back alleys. But they have infiltrated the inner circles of upper-crust society as well. Only a handful of specially gifted practitioners are equipped to battle the beasts. Among them are the roguish Simon Archer, who conceals his powers as a spell-casting scribe behind the smooth veneer of a dashing playboy; his layabout mentor, Nick Barker, who prefers a good pub to thrilling heroics; and the self-possessed alchemist Kate Anstruther, who is equally at home in a ballroom as she is on a battlefield.

After a lycanthrope targets Kate's vulnerable younger sister, the three join forces with fierce Scottish monster-hunter Malcolm MacFarlane—but quickly discover they're dealing with a threat far greater than anything they ever imagined.
Length: 320 pages (Paperback)
Expected Publication Date: June 2nd 2015 by Del Rey
Why I'm Waiting:
This one had me at Victorian Urban Fantasy. Really need I say more?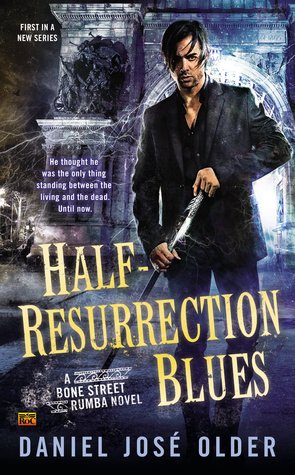 Summary:
"Because I'm an inbetweener—and the only one anyone knows of at that—the dead turn to me when something is askew between them and the living. Usually, it's something mundane like a suicide gone wrong or someone revived that shouldn'ta been."

Carlos Delacruz is one of the New York Council of the Dead's most unusual agents—an inbetweener, partially resurrected from a death he barely recalls suffering, after a life that's missing from his memory. He thinks he is one of a kind—until he encounters other entities walking the fine line between life and death.

One inbetweener is a sorcerer. He's summoned a horde of implike ngks capable of eliminating spirits, and they're spreading through the city like a plague. They've already taken out some of NYCOD's finest, leaving Carlos desperate to stop their master before he opens up the entrada to the Underworld—which would destroy the balance between the living and the dead.

But in uncovering this man's identity, Carlos confronts the truth of his own life—and death…
Length: 336 pages (Paperback)
Expected Publication Date: January 6th 2015 by Roc
Why I'm Waiting:
The premise of this one is really interesting and I like the idea of Inbetweeners.