The Simplicity of Cozy: Hygge, Lagom & the Energy of Everyday Pleasures
by Melissa Alvarez
Make cozy your way of life with this guide for connecting to the positive energy of simple, everyday moments. Known around the world as hygge, lagom, and other similar terms, cozy and balanced living helps you improve your health, happiness, and spirituality by understanding and feeling the frequency of people, animals, places, and situations.
The Simplicity of Cozy explores a variety of topics, including mindfulness, simple ritual, self-care, home environment, relationship connections, and being in nature. Using easy techniques and exercises, you can tune into and practice the energy of coziness.
Expected Publication Date:
May 8th 2018 by Llewellyn Publications
Why I'm Waiting:
I love books about Hygge so this one really caught my attention especially since the cover screams cozy!
Conan Doyle for the Defense: The True Story of a Sensational British Murder, a Quest for Justice, and the World's Most Famous Detective Writer by Margalit Fox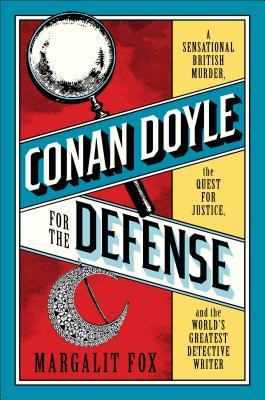 In this heady true-crime procedural, the creator of Sherlock Holmes uses his unparalleled detective skills to exonerate a German Jew wrongly imprisoned for murder, and sound a victory for reason over reflexive prejudice.
In 1908, a wealthy woman was brutally murdered in her Glasgow apartment. The police found a convenient but innocent suspect in Oscar Slater--an immigrant Jewish cardsharp--who was tried, convicted and consigned to life at hard labor in a merciless Scottish prison. Sir Arthur Conan Doyle, already world famous as the creator of Sherlock Holmes, was outraged by this injustice and became obsessed with the case. He scoured trial transcripts, newspaper accounts and eyewitness statements, meticulously noting myriad holes, inconsistencies and outright fabrications. Finally, in 1927, his work won Slater's freedom.
Conan Doyle for the Defense immerses readers in the science of Edwardian crime detection, telling the story of how Conan Doyle managed to overturn a murder conviction in the era before modern forensics--simply by employing the methods of his most famous creation. Along the way, Fox illuminates a watershed moment in the history of criminal justice, when reflexive prejudice began to be replaced by reason and the scientific method.
Expected Publication Date:
June 26th 2018 by Random House
Why I'm Waiting:
Because Sir Arthur Conan Doyle that's why. Seriously though the man who created Sherlock Holmes helped solve a crime? How can I not want to read that.