This one is simple and just about sharing your favorite quotes and the books they come from! Hosted by the
FABULOUS
Anna at
Herding Cats & Burning Soup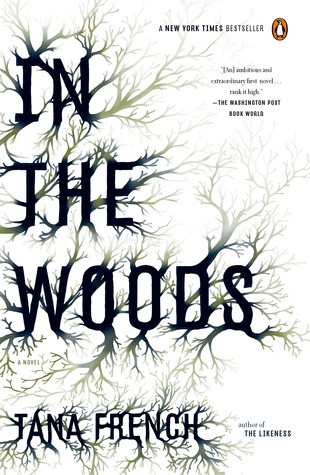 As dusk approaches a small Dublin suburb in the summer of 1984, mothers begin to call their children home. But on this warm evening, three children do not return from the dark and silent woods. When the police arrive, they find only one of the children gripping a tree trunk in terror, wearing blood-filled sneakers, and unable to recall a single detail of the previous hours.

Twenty years later, the found boy, Rob Ryan, is a detective on the Dublin Murder Squad and keeps his past a secret. But when a twelve-year-old girl is found murdered in the same woods, he and Detective Cassie Maddox—his partner and closest friend—find themselves investigating a case chillingly similar to the previous unsolved mystery. Now, with only snippets of long-buried memories to guide him, Ryan has the chance to uncover both the mystery of the case before him and that of his own shadowy past.

Richly atmospheric, stunning in its complexity, and utterly convincing and surprising to the end, In the Woods is sure to enthrall fans of Mystic River and The Lovely Bones. And look for French's new mystery, Broken Harbor, for more of the Dublin Murder Squad.
Length:

448 pages (Hardcover)
Publication Date:

Published May 17th 2007 by Viking Adult
(first published January 1st 2007)
"I read a lot. I always have, but in those two years I gorged myself on books with a voluptuous, almost erotic gluttony. I would go to the local library and take out as many as I could, and then lock myself in the bedsit and read solidly for a week. I went for old books, the older the better--Tolstoy, Poe, Jacobean tragedies, a dusty translation of Laclos--so that when I finally resurfaced, blinking and dazzled, it took me days to stop thinking in their cool, polished, crystalline rhythms."
― Rob Ryan (In The Woods)
I love this one because the character is talking about his love for books, which we can all understand I think.