Waiting on Wednesday

is a weekly meme hosted by Jill at
Breaking The Spine
and is where we can talk about books we are looking forward to being released.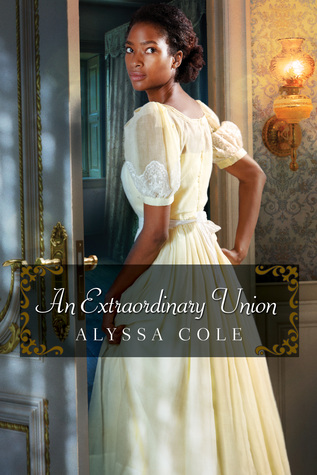 Summary:
As the Civil War rages between the states, a courageous pair of spies plunge fearlessly into a maelstrom of ignorance, deceit, and danger, combining their unique skills to alter the course of history and break the chains of the past . . .
Elle Burns is a former slave with a passion for justice and an eidetic memory. Trading in her life of freedom in Massachusetts, she returns to the indignity of slavery in the South—to spy for the Union Army.
Malcolm McCall is a detective for Pinkerton's Secret Service. Subterfuge is his calling, but he's facing his deadliest mission yet—risking his life to infiltrate a Rebel enclave in Virginia.
Two undercover agents who share a common cause—and an undeniable attraction—Malcolm and Elle join forces when they discover a plot that could turn the tide of the war in the Confederacy's favor. Caught in a tightening web of wartime intrigue, and fighting a fiery and forbidden love, Malcolm and Elle must make their boldest move to preserve the Union at any cost—even if it means losing each other . . .
Length:
320 pages (Trade Paperback)
Expected Publication Date:
March 28th 2017 by Kensington
Why I'm Waiting:
You have no idea how refreshing I find this book to sound. How often to we get a historical fiction novel with romance between a white man and a former slave in the midst of the Civil War? I cannot wait to get my eager hads on a copy and I'm glad Kensingston is starting to diversify their titles more. It's been needed for far too long in the publishing world as a whole.
Summary:
The suspense thriller of the year - The Marsh King's Daughter will captivate you from the start and chill you to the bone.

'I was born two years into my mother's captivity. She was three weeks shy of seventeen. If I had known then what I do now, things would have been a lot different. I wouldn't have adored my father.'
When notorious child abductor - known as the Marsh King - escapes from a maximum security prison, Helena immediately suspects that she and her two young daughters are in danger.
No one, not even her husband, knows the truth about Helena's past: they don't know that she was born into captivity, that she had no contact with the outside world before the age of twelve - or that her father raised her to be a killer.
And they don't know that the Marsh King can survive and hunt in the wilderness better than anyone... except, perhaps his own daughter.
Packed with gripping suspense and powerful storytelling, The Marsh King's Daughter is a one-more-page, read-in-one-sitting thriller that you'll remember for ever.
Length:
320 pages (Hardcover)
Expected Publication Date:
June 29th 2017 by G.P. Putnam's Sons
Why I'm Waiting:
I love a good thriller and this one certainly sounds like it's going to have me on the edge of my seat. Serial abductor escaping prison and going on a vengeful hunt?! How can I say now to it. Unfortunately June is a long way off.