Waiting on Wednesday
is a weekly meme hosted by
Jill at
Breaking The Spine
and is where we can talk about books we are looking forward to being released.
Summary:
An epic fantasy debut, The Empire's Ghost weaves together the lives of the haves and the have-nots both desperately fighting to reassemble the remains of a fallen empire.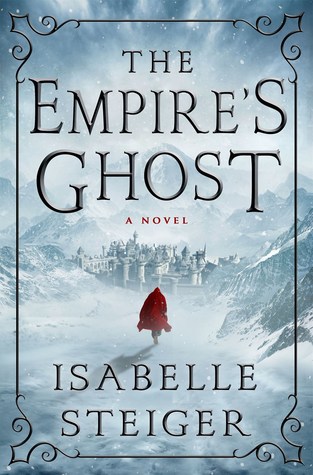 The empire of Elesthene once spanned a continent, but its rise heralded the death of magic. It tore itself apart from within, leaving behind a patchwork of kingdoms struggling to rebuild. But when a new dictator, the ambitious and enigmatic Imperator Elgar, seizes power in the old capital and seeks to recreate the lost empire anew, the other kingdoms have little hope of stopping him. Prince Kelken of Reglay finds himself at odds with his father at his country's darkest hour; the marquise of Esthrades is unmatched in politics and strategy, but she sits at a staggering military disadvantage. And Issamira, the most powerful of the free countries, has shut itself off from the conflict, thrown into confusion by the disappearance of its crown prince and the ensuing struggle for succession.
Everything seems aligned in Elgar's favor, but when he presses a band of insignificant but skilled alley-dwellers into his service for a mission of the greatest secrecy, they find an unexpected opportunity to alter the balance of power in the war. Through their actions and those of the remaining royals, they may uncover not just a way to defeat Elgar, but also a deeper truth about their world's lost history.
Isabelle Steiger has crafted a powerful and masterful debut with The Empire's Ghost, the first book in a haunting new epic fantasy series.
Length:

432 pages (Hardcover)
Expected Publication Date:
May 16th 2017 by Thomas Dunne Books
Why I'm Waiting:
I love a good fantasy novel especially one with a lot of political intrigue.
Summary:
The year is 2039, and Los Angeles is poised between order and chaos. After the Collapse of 2028, a vast section of LA, now known as the Disincorporated Zone, was disowned by the civil authorities and became a de facto third world country within the borders of the city.
Navigating the boundaries between DZ and LA proper is a tricky task, and there's no one better suited than eccentric private investigator Erasmus Keane. So when movie mogul Selah Fiore decides she needs to get her hands on a rare coin lost somewhere in the city, she knows Keane is the man for the job.
But while the erratic Keane and his more sensible partner Blake Fowler struggle to unravel the mystery of the elusive coins, Blake's girlfriend Gwen goes missing and Selah Fiore turns up murdered. Both of these crimes seem to be linked to the coins--and to an untraceable virtual currency called iotas, used by drug dealers and terrorist networks.
Framed for Selah's murder and desperate to find Gwen, Keane and Fowler must outwit DZ warlords, outmaneuver a reclusive billionaire, and stay a step ahead of the police while they gradually uncover the truth about iotas. Soon the clues begin to point to a conspiracy at the highest levels of government--and to a mysterious trickster who has orchestrated it all. As the DZ devolves into chaos and another Collapse seems to loom, Blake Fowler realizes that the brilliant Erasmus Keane may have finally met his match.
Set in the world of The Big Sheep, Robert Kroese delivers another dystopian adventure novel perfect for fans of Philip Dick and Douglas Adams.
Length:

320 pages (Hardcover)
Expected Publication Date:
May 9th 2017 by Thomas Dunne Books
I love a good sci-fi and I've heard of the author's Mercury series before and I want to read it but this one really has me interested in trying him out. I want to read more sci-fi this year so hopefully I can get this one soon after release day.