Waiting on Wednesday

is a weekly meme hosted by Jill at
Breaking The Spine
and is where we can talk about books we are looking forward to being released.
Summary:
For fans of Lauren Kate's Fallen series comes the exciting conclusion to the trilogy that includes The Beautiful and the Cursed and The Lovely and the Lost. The Waverly sisters must save themselves before all is lost.

Since the Waverlys arrived in Paris, the streets have grown more fearsome by the day. As Ingrid learns to master her lectrux gift, she must watch Axia's power grow strong enough to extend beyond her Underneath hive. By all indications, the fallen angel's Harvest is near-and the timing couldn't be worse.

Targeted by vengeful gargoyles, Gabby has been exiled to London for her own protection. Meanwhile, the gargoyle castes are in disarray, divided between those who want Luc to lead them and those who resent him and his fondness for humans. The Alliance is crumbling from the inside as well, its members turning against one another, and possibly against the Waverlys, too.

Axia has promised that the world will burn. And now, unable to trust the Alliance, separated from Luc, Gabby, and her twin, Grayson, Ingrid is left to face the demon uprising alone.
Length: 352 pages (Hardcover)
Expected Publication Date: 14th 2015 by Delacorte Press
Why I'm Waiting:
I loved the first book in the series when I read it and I'm currently waiting on my hold of The Beautiful and the Cursed to come in at the library but I love the characters and can't wait to see what happens in this one!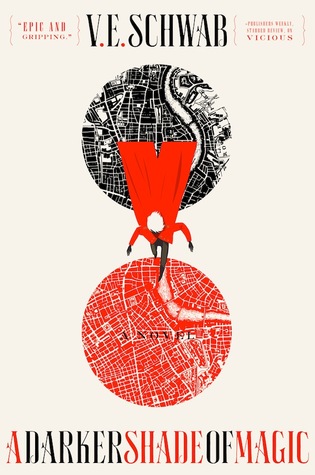 Summary:
From V.E. Schwab, the critically acclaimed author of Vicious, comes a new universe of daring adventure, thrilling power, and parallel Londons, beginning with A Darker Shade of Magic.

Kell is one of the last Travelers—magicians with a rare, coveted ability to travel between parallel universes—as such, he can choose where he lands.

There's Grey London, dirty and boring, without any magic, ruled by a mad King George. Then there's Red London, where life and magic are revered, and the Maresh Dynasty presides over a flourishing empire. White London, ruled by whoever has murdered their way to the throne—a place where people fight to control magic, and the magic fights back, draining the city to its very bones. And once upon a time, there was Black London...but no one speaks of that now.

Officially, Kell is the Red Traveler, personal ambassador and adopted Prince of Red London, carrying the monthly correspondences between the royals of each London. Unofficially, Kell is a smuggler, servicing people willing to pay for even the smallest glimpses of a world they'll never see—a dangerous hobby, and one that has set him up for accidental treason. Fleeing into Grey London, Kell runs afoul of Delilah Bard, a cut-purse with lofty aspirations, who first robs him, then saves him from a dangerous enemy, and then forces him to spirit her to another world for a proper adventure.

But perilous magic is afoot, and treachery lurks at every turn. To save all of the worlds, Kell and Lila will first need to stay alive—and that is proving trickier than they hoped.
Length: 400 pages (Hardcover)
Expected Publication Date: February 24th 2015 by Tor Books
Why I'm Waiting:
Alternate London is what got me and I love the sound of the travelers.