Library Loot is a weekly event co-hosted by Claire from
The Captive Reader
and Linda from
Silly Little Mischief
that encourages bloggers to share the books they've checked out from the library. If you'd like to participate, just write up your post-feel free to steal the button-and link it using the Mr. Linky any time during the week. And of course chec
k out what other participants are getting from their libraries.
Luna: New Moon
by Ian McDonald
The Moon wants to kill you.
Maybe it will kill you when the per diem for your allotted food, water, and air runs out, just before you hit paydirt. Maybe it will kill you when you are trapped between the reigning corporations-the Five Dragons-in a foolish gamble against a futuristic feudal society. On the Moon, you must fight for every inch you want to gain. And that is just what Adriana Corta did.
As the leader of the Moon's newest "dragon," Adriana has wrested control of the Moon's Helium-3 industry from the Mackenzie Metal corporation and fought to earn her family's new status. Now, in the twilight of her life, Adriana finds her corporation-Corta Helio-confronted by the many enemies she made during her meteoric rise. If the Corta family is to survive, Adriana's five children must defend their mother's empire from her many enemies... and each other.
Length:
398 pages (Hardcover)
Publication Date:
September 22nd 2015 by Tor Books
War Dogs: Tales of Canine Heroism, History, and Love
by Rebecca Frankel
Under the cover of night, deep in the desert of Afghanistan, a US Army handler led a Special Forces patrol with his military working dog. Without warning an insurgent popped up, his weapon raised. At the handler's command, the dog charged their attacker. There was the flash of steel, the blur of fur, and the sound of a single shot; the handler watched his dog take a bullet. During the weeks it would take the dog to heal, the handler never left its side. The dog had saved his life. Loyal and courageous, dogs are truly man's best friend on the battlefield. While the soldiers may not always feel comfortable calling the bond they form love, the emotions involved are strong and complicated. In
War Dogs
, Rebecca Frankel offers a riveting mix of on-the-ground reporting, her own hands-on experiences in the military working dog world, and a look at the science of dogs' special abilities-from their amazing noses and powerful jaws to their enormous sensitivity to the emotions of their human companions. The history of dogs in the US military is long and rich, from the spirit-lifting mascots of the Civil War to the dogs still leading patrols hunting for IEDs today. Frankel not only interviewed handlers who deployed with dogs in wars from Vietnam to Iraq, but top military commanders, K-9 program managers, combat-trained therapists who brought dogs into war zones as part of a preemptive measure to stave off PTSD, and veterinary technicians stationed in Bagram. She makes a passionate case for maintaining a robust war-dog force. In a post-9/11 world rife with terrorist threats, nothing is more effective than a bomb-sniffing dog and his handler. With a compelling cast of humans and animals, this moving book is a must read for all dog lovers-military and otherwise.
Length:
272 pages (Hardcover)
Publication Date:
October 14th 2014 by St. Martin's Press
(first published August 27th 2013)
Red Queen
by Victoria Aveyard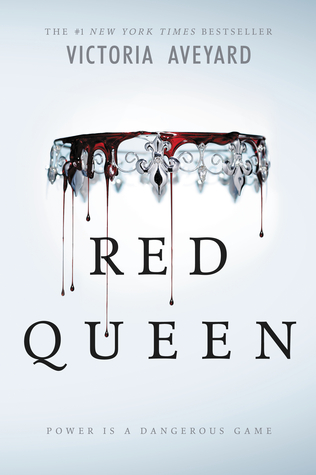 This is a world divided by blood – red or silver.
The Reds are commoners, ruled by a Silver elite in possession of god-like superpowers. And to Mare Barrow, a seventeen-year-old Red girl from the poverty-stricken Stilts, it seems like nothing will ever change.
That is, until she finds herself working in the Silver Palace. Here, surrounded by the people she hates the most, Mare discovers that, despite her red blood, she possesses a deadly power of her own. One that threatens to destroy the balance of power.
Fearful of Mare's potential, the Silvers hide her in plain view, declaring her a long-lost Silver princess, now engaged to a Silver prince. Despite knowing that one misstep would mean her death, Mare works silently to help the Red Guard, a militant resistance group, and bring down the Silver regime.
But this is a world of betrayal and lies, and Mare has entered a dangerous dance – Reds against Silvers, prince against prince, and Mare against her own heart.
Genre:
Young Adult Fantasy
Publication Date:
February 10th 2015 by HarperTeen
Slow Dough: Real Bread: Bakers' secrets for making amazing long-rise loaves at home
by Chris Young
Making bread is an ancient craft and a fulfilling experience, a skill that is learnt by touch and feel. There is nothing more satisfying than kneading, pulling, stretching and punching the dough, using a little yeast and sugar to transform its lumpen beginnings, as if by alchemy, into a loaf. But it's not all hard work. To get a truly wonderful bread, you can use a starter to do the work for you and it does wonders for the texture, flavours and aromas of the final bread. The Real Bread Campaign has been running since 2008, encouraging people to get baking and raising awareness of the additives that exist in most shop-bought loaves. In
Slow Dough: Real Bread
, learn secrets from the campaign's network of expert bakers to make a huge array of exciting slow-rise breads at home. Whether you want to make a Caraway Seed Rye Bread, a Fougasse Flatbread or an All-Butter Brioche, in these recipes you'll learn how to make different starters for different breads, as well as the fundamental processes (many of which you can just sit and wait for): fermenting, kneading, first proof, last rising, and baking. In a world of mass-production and redundant additives, bread being among the worst offenders, this book, about real craftsmanship, is like a breath of fresh air.
Publication Date:
September 13th 2016 by Nourish