Waiting on Wednesday

is a weekly meme hosted by Jill at
Breaking The Spine
and is where we can talk about books we are looking forward to being released.
Summary:
Not all are free. Not all are equal. Not all will be saved.
Our world belongs to the Equals — aristocrats with magical gifts — and all commoners must serve them for ten years. But behind the gates of England's grandest estate lies a power that could break the world.
A girl thirsts for love and knowledge.
Abi is a servant to England's most powerful family, but her spirit is free. So when she falls for one of the noble-born sons, Abi faces a terrible choice. Uncovering the family's secrets might win her liberty, but will her heart pay the price?
A boy dreams of revolution.
Abi's brother, Luke, is enslaved in a brutal factory town. Far from his family and cruelly oppressed, he makes friends whose ideals could cost him everything. Now Luke has discovered there may be a power even greater than magic: revolution.
And an aristocrat will remake the world with his dark gifts.
He is a shadow in the glittering world of the Equals, with mysterious powers no one else understands. But will he liberate—or destroy.
Length:
368 pages (Hardcover)
Expected Publication Date:
February 14th 2017 by Del Rey Books
Why I'm Waiting:
This one magically came across my computer screen yesterday and as soon as I read the summary I just knew that this is one I had to snatch up as soon as it get's released. It just sounds so....awesome! Plus I'm loving the cover.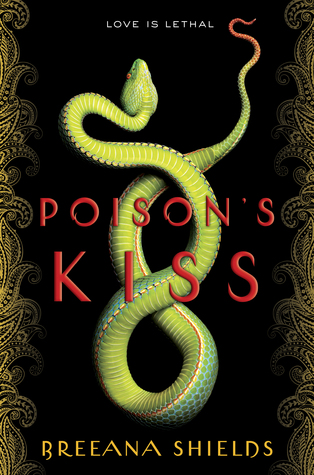 Summary:
A teenage assassin kills with a single kiss until she is ordered to kill the one boy she loves. This commercial YA fantasy is romantic and addictive like-- a poison kiss-- and will thrill fans of Sarah J. Maas and Victoria Aveyard.
Marinda has kissed dozens of boys. They all die afterward. It s a miserable life, but being a visha kanya a poison maiden is what she was created to do. Marinda serves the Raja by dispatching his enemies with only her lips as a weapon.
Until now, the men she was ordered to kiss have been strangers, enemies of the kingdom. Then she receives orders to kiss Deven, a boy she knows too well to be convinced he needs to die. She begins to question who she s really working for. And that is a thread that, once pulled, will unravel more than she can afford to lose.
This rich, surprising, and accessible debut is based in Indian folklore and delivers a story that will keep readers on the edge of their seats.
Length:
304 pages (Hardcover)
Expected Publication Date:
January 10th 2017 by Random House Books for Young Readers
Why I'm Waiting:
This one too, was new to me but now that I've read the summary I'm definitely glad that January isn't that far off. I love that it mixes Indian folklore into the story and can't wait to read it.
What are you waiting on?